Happy FriYAY!
We are getting our first look at Tom Hanks as Mr. Rogers for an upcoming movie. The studio posted a pic with the caption: "Tom Hanks is Mister Rogers, coming to a neighborhood near you October 2019." The movie is about a reporter who becomes quite close with Rogers while doing a profile of him for a magazine.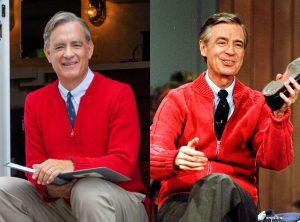 Lady Gaga shared a duet with her co-star Bradley Cooper. The song is called "Shallow" & its from the soundtrack for their movie "A Star is Born." The movie is out October 5th. Also Lady Gaga played BURNING QUESTIONS with Ellen. She admitted her favorite body part is her nose!
A contestant on "Jeopardy" proposed to his girlfriend mid-show. His girlfriend Maria was sitting in the audience & she said yes! As for the guy he came in second.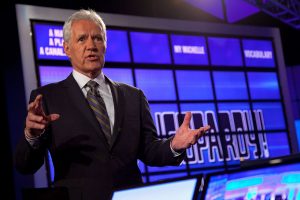 Clean Bandit gave us a sneaky peek at new music. Clean Bandit are dropping their new album on November 30th &  FYI the album will include guest appearances by Charli XCX, Ellie Goulding, Sean Paul, Demi Lovato, Luis Fonsi and more. We can't wait!
Pete Davidson told Seth Meyers he abandoned his friends after he got engaged to Ariana Grande
As promised, Zedd and Shawn Mendes dropped the remix of "Lost in Japan." Shawn said quote: "it felt natural to ask him to collaborate on it. What he did with it is so incredible, and I'm so excited for the world to hear it." ALSO Shawn Mendes & Jimmy Fallon played a singing game. They both had to take turns singing songs but if they got the lyrics wrong they got sprayed in the face with water!
Jessie J just announced a Christmas album! The album titled "The Christmas Day," will drop October 26th. It will feature classic Christmas songs, like "Santa Claus is Coming To Town," and "Silent Night," and will include special guests Boyz II Men and Babyface.
Paul McCartney said in a new interview that he and John Lennon were competitive about their songwriting. But apparently John Lennon complimented him on one song . . . "Here, There and Everywhere" from Revolver.
Get this Will Smith is a HUGE fan of Twenty One Pilots! Twenty One Pilots posted pics of Will Smith wearing their new merchandise. You can find merchandise on their website. Don't forget Twenty One Pilots are hitting the road for their "Bandito Tour" October 16th. It's in support of their latest album "Trench" which drops October 5th.
That's YOUR Dirt!
– Cami