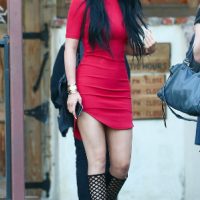 Seventeen year old Kylie Jenner has been dating 25 year old Tyga since September and her appearance has changed drastically in recent months.  Kylie quickly went from beautiful girl style to looking like a street walker trying to make her rent on time.  Reportedly, Kylie's mother and family actually DO care that their daughter may be headed down the wrong path.  Sources say the family thinks Tyga's friends are "enablers" and that he will have a "negative impact on her decision making."
No kidding.
If your 17 year old daughter is:
A. spending a great deal of time on a tour bus (where ANYTHING goes) and
B. dating a hip hop star who is known for rapping about very adult situations and keeps company with some less than reputable characters,
you should be worried… EIGHT MONTHS AGO.